Click here to ORDER NOW. Or, you can order by e-mailing us (HealthHeroFarm@gmail.com) or by calling 802-233-0064. To order a multi-cut package or side of beef, you must e-mail or phone us. Thank you!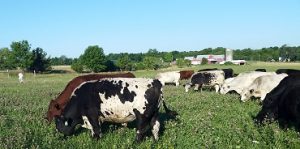 We are passionate about producing nutritious foods, treating animals humanely, using sustainable agricultural practices, and providing our customers with convenient and affordable meals. Folks who previously didn't like beef tell us that they enjoy our cattle's meat because it is truly different from what is sold in grocery stores and supermarkets.
Some folks claim that eating beef is bad for the environment and for your health. But an environmental attorney (who worked for Robert Kennedy Jr. to sue farms that polluted streams and rivers) has written an excellent book, Defending Beef, to debunk these claims. Even though Nicolette Hahn Niman is a vegetarian, she considers beef to be an excellent food for anyone who wants it. At Health Hero Farm, we practice intensively managed, rotational grazing – the gold standard for regenerative agriculture. These practices create fertile, water-filtering topsoil and sequester carbon while producing nutritious food. Let us know if you have questions about the ethics associated with consuming beef. We are glad to share what we know!
Because our beef is hard-frozen immediately after butchering at USDA-inspected facilities and kept hard-frozen until purchase, it is guaranteed fresh and there is less chance of spoilage than with meat sold at grocery stores. Even if red meat is served only occasionally in your home, why not use healthy and flavorful beef? We guarantee customer satisfaction!
Useful Information
Click here for answers to 7 questions people have about buying beef directly from the farmer.
Click here for a good explanation of the various cuts of beef.
Our meat is dry-aged for 7-9 days at a USDA-inspected butcher who is also certified by Animal Welfare Approved (animalwelfareapproved.us/). Each cut is immediately vacuum-sealed by the butcher and frozen solid to retain the flavor of freshly-butchered meat. Before cooking, individual packages can be thawed quickly and safely in room-temp water.
100% Grass-fed beef is better for you because…
Significantly more omega-3's compared to grain-finished beef
2-3 times more conjugated linoleic acid (CLA)
7 times higher beta-carotene
3X more vitamin E
More B vitamins
1/3 less total fat
Significantly lower omega-6 to omega-3 ratio
Our beef tastes better because…
Grass-fed – Cattle are much healthier when they eat what they are designed to eat – grass.
Genetics – Our heritage cattle (Angus and British White cows and a British White bull) were bred specifically to turn grass into well-marbled, high-quality meat.
Certified organic pastures – We work hard to ensure that our pastures produce the most nutritious forage for beef cattle, and our cattle eat only certified organic feed. NO herbicides, pesticides, hormones, antibiotics or GMO products are used on our farm.
Low-stress, Humane Handling –Lower stress results in more tender and more flavorful meat.
Planned Grazing – Our cattle always have lots of fresh, high-quality forage; and the more they have, the more they eat (so the more marbled and flavorful their meat)!
Try our ground beef and see how different it both tastes and makes you feel.
We are committed to environmentally-friendly and sustainable practices on our farm. Our regenerative, intensively-managed rotational grazing practices sequester atmospheric carbon.
These practices also keep nutrients out of Lake Champlain and build fertile soils to sustain future generations. We and our children swim in the Lake! Our farm is conserved, and we take great care to use the most effective, environmentally-friendly, and sustainable farming practices. Our work with the University of Vermont helps ensure that water exiting from our property is significantly lower in nutrient (nitrogen, phosphorous, potassium) and particulate emissions than waters from conventional farms.
Compaction creates a highly impervious soil and adds significantly to surface runoff. When nutrients are applied to compacted soils, significantly more of these nutrients end up in nearby waterways. We have used subsoiling, in combination with grass seeding and grazing, to break up compacted soil.
Soils with more organic carbon absorb significantly more water and do a much better job of filtering/retaining nutrients. The cattle themselves play an important role in our efforts to increase soil organic carbon. Both the waste products from the cattle and their trampling of plant material into the soils increase soil organic content. Water that does filter through our soils is quite clean.
There are no manure lagoons on our farm, we have separate drainage for clean runoff water, and we have a riparian buffer strip alongside the one stream (seasonal) through our property. As a consequence, our operations emit very little, if any, pollutants into nearby waterways (i.e., Lake Champlain)!
Thank you for your interest in our Grass-fed Beef!


We are excited to offer this exceptional product
And honored to be responsible stewards of our land, air, water and animals

!